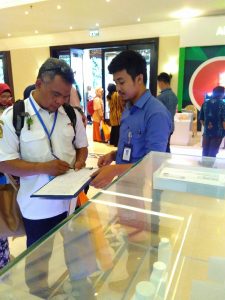 September 11, 2019 – Yogyakarta Provincial Health Office collaborated with the Ministry of Health Republic of Indonesia carried out domestic medical devices exhibition P3DN (Peningkatan Penggunaan Produksi Dalam Negeri – The Fostering of Domestic Product Consumption) which in parallel with cross-sectoral coordination on developing domestic industries and the use of domestic medical devices.
Responding to the official invitation from the Ministry of Health Republic of Indonesia, Proline joined the expo from September 11th until September 13th with other several local manufacturers of medical devices. On this excellent occasion, Proline promoted locally produced fluid-stable reagents for clinical chemistry diagnosis which has been available to be purchased on the e-catalog website since 2015.
By providing comprehensive information about Proline's product features, some visitors were convinced to make a substitution on their current installed clinical chemistry reagents for daily diagnoses. Most of the end-users are satisfied with the advantages of using Proline's reagent. Some of the key benefits are fluid-stable and open-system reagents with a long expiry date, ready-to-purchase products on e-catalog, and agile delivery time.