Total Protein FS
Measurement of total protein is useful in identifying various disorders in the body. Decreased total protein concentration can be detected in decreased protein synthesis from the liver, protein loss due to impaired renal function, malabsorption, or nutritional deficiency. Elevated protein levels also occur in chronic inflammatory disorders, liver cirrhosis and dehydration.
Dehydration

Chronic inflammation

Myeloma (IgA, IgG)

Sarcoidosis
Overhydration

Liver insufficiency

Malnutrition

Myeloma (light chain)

Agammaglobulinemia

Malignancy

Nephrotic enteropathy

Protein loss enteropathy
Proline Total Protein FS comes in a liquid format which provides convenience for users as no reconstitution is required which helps reduce the risk of misdiagnosis.
Proline Total Protein FS reagent is suitable for various third-party analyzers such as Abbott, Advia, Cobas, Hitachi, Olympus, Response, TokyoBoeki, and Beckman Coulter. Please contact our technical support at marketing@proline.co.id for further compatibility information on other types of analyzers.
Photometric test using biuret method.

No interference: ascorbic acid 30mg/dL, bilirubin conjugated 60mg/dL, bilirubin non-conjugated 70mg/dL, and hemoglobin 550mg/dL, and triglyceride lipemia 1000mg/dL

Measurement of linearity reaches 14 g/dL with limit detection of 0,06 g/dL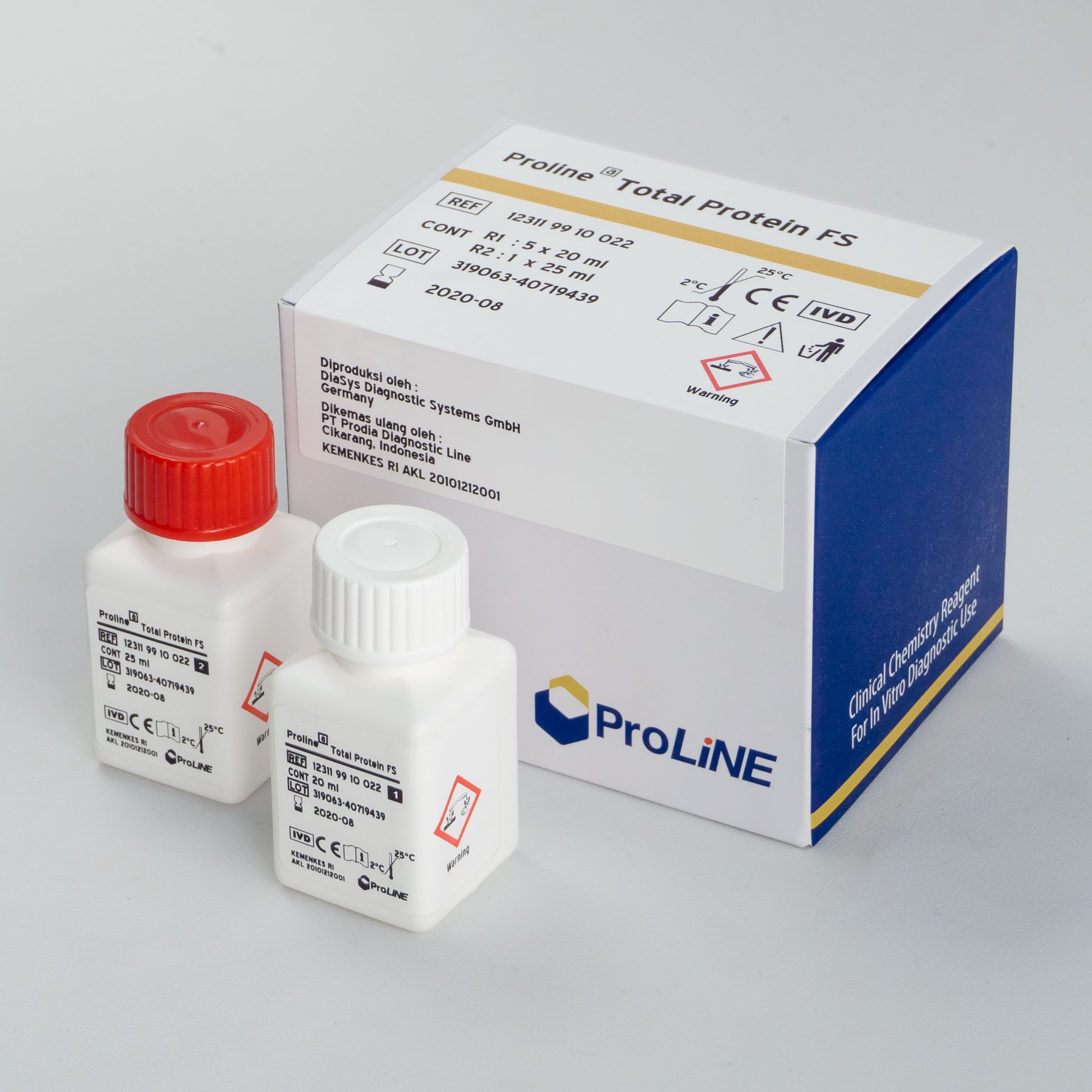 Reach out to our team for more product and orders information.
Phone. +6221 8984 2722

WhatsApp. +62 815 1359 2626

Email. marketing@proline.co.id
Contact our Technical Assistance team for further assistance with product specifications, services and other technical documents.
Phone. +6221 8984 2722

WhatsApp. +62 817 9324 884

Email. technical.support@prodis.co.id