Extremely Fast and Versatile Analyzer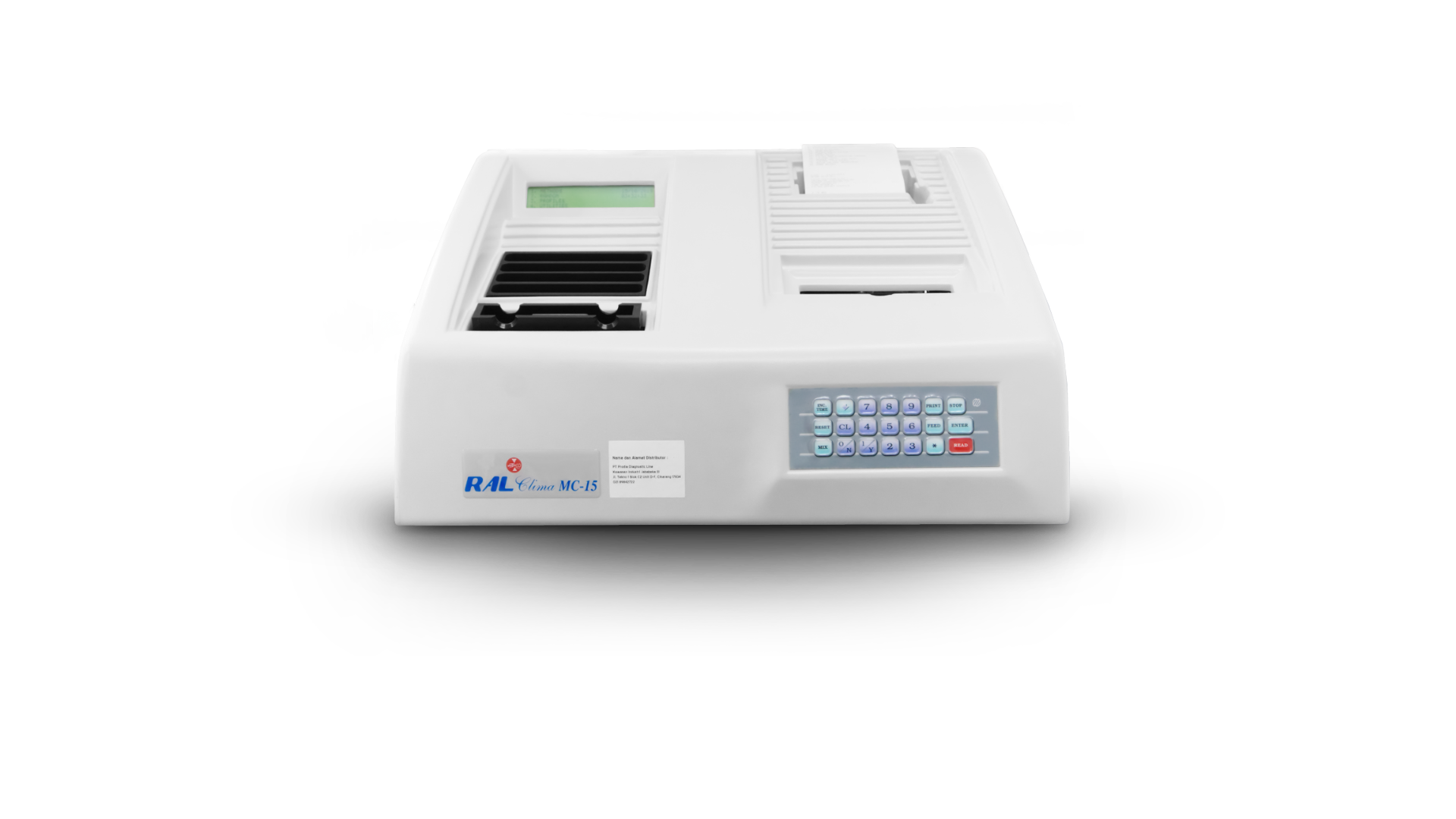 The tests are very easy to run and to control due to the use of a multi-cuvette rack with separated compartments and the help of the work station to dispense samples and reagents.
The multi-cuvette system allows Clima® MC-15 to simultaneously process the reading of 15 end point tests per minute or 15 kinetics in 4 minutes with a minimum volume of reagent (0.5 mL) and without carry over.
Each cuvette has two different compartments, small for the sample and big one for the reagents up to 500 µL. It works with mono-reagent or bi-reagent measurement format.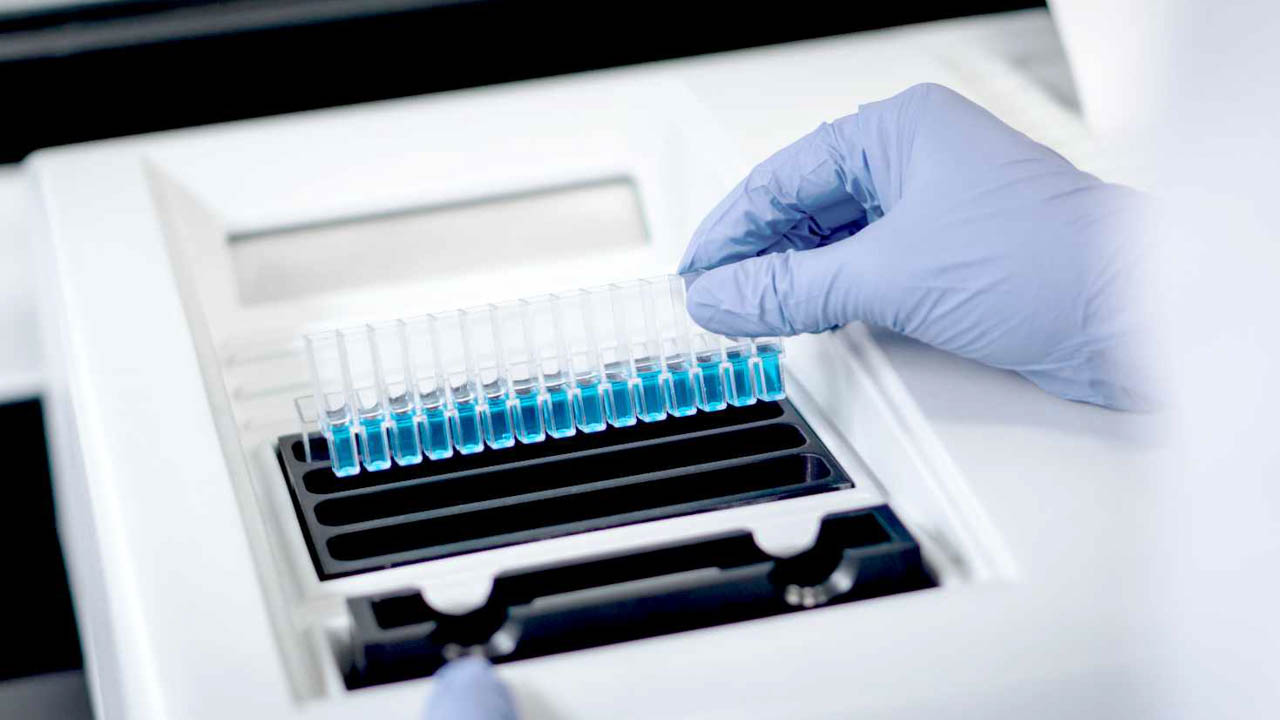 Multiracks incubator
Clima® MC-15 equipped with 4 racks of incubator perfectly fit with the multi-cuvette rack system. This enables the system to achieve such high throughput and seamless test workflow.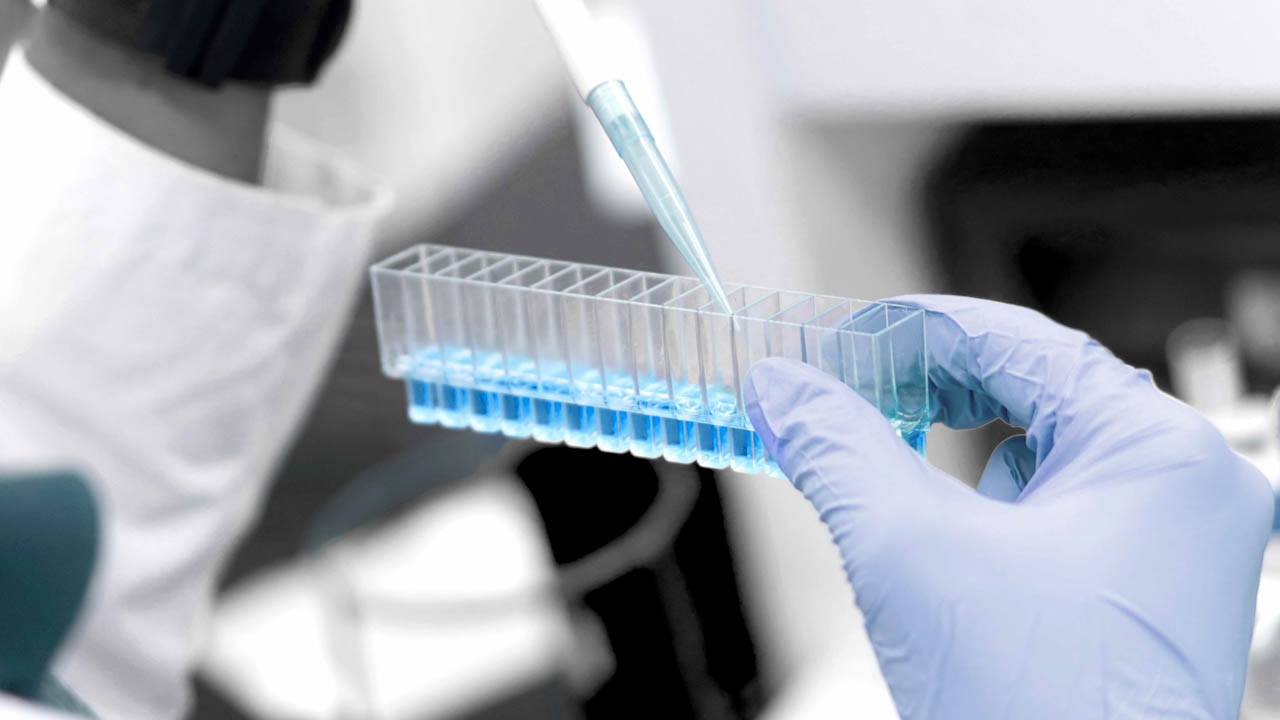 Multiple cells compartment
A set of multi-cuvette consist of 15 test cells allows multiple parameter readings in one running setup scenario. The multi-cuvette itself is disposable thus avoiding carry-over problems between tests.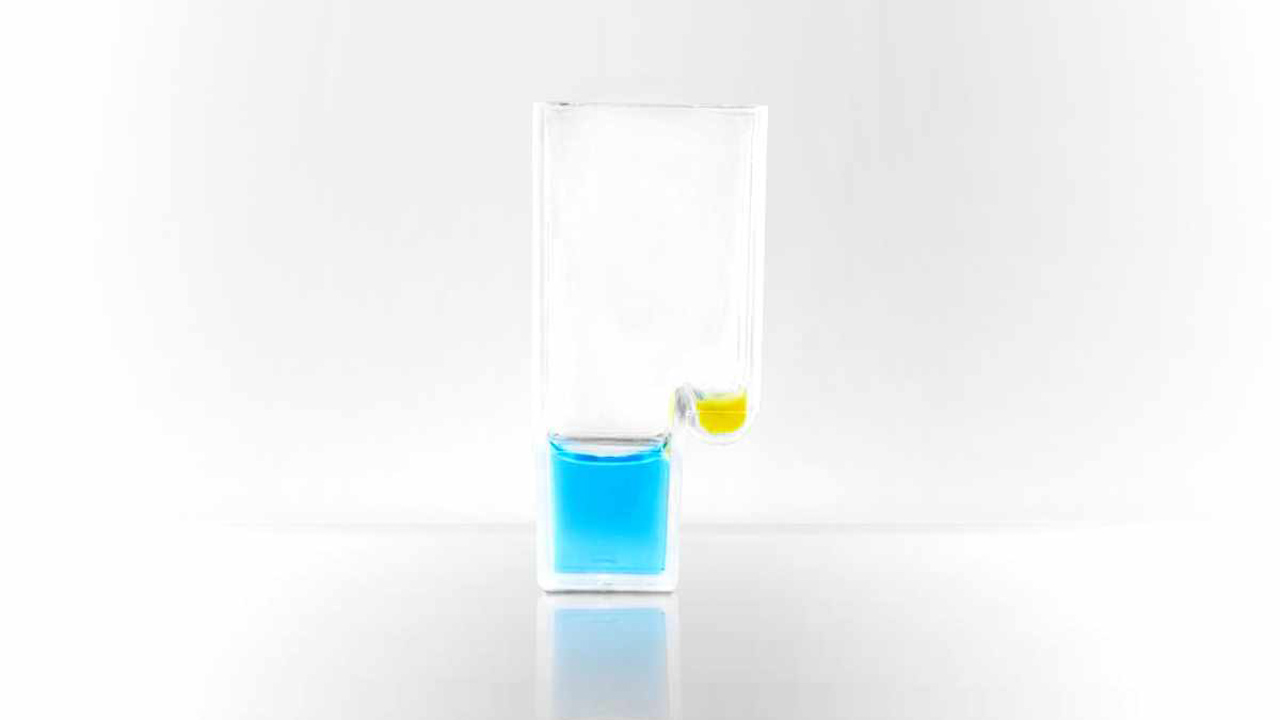 Two compartmens in one cell
Each multi-cuvette cell comes with two compartments set for reagent (blue compartment) and sample (yellow compartment) solution. The cell is designed for uniform homogenization results with less bubble during the mixing process.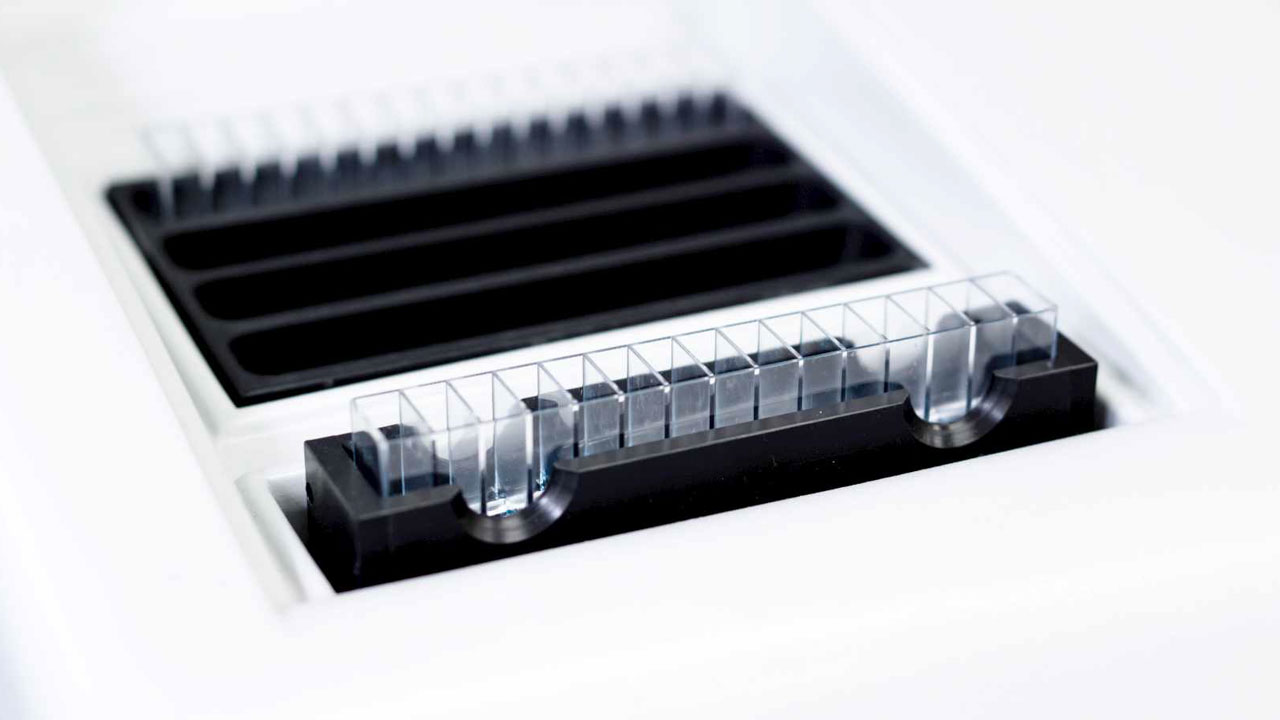 Controlled mixer
Clima® MC-15 featuring mechanical mixer with time and speed control for controlled and uniform mixing result.
Clima® MC-15 is able to measure various parameter such as :
Absorbances 
Concentration : end point and fixed time
Activities : kinetics
Differential
Ratio : specific calculations
Multicalibration curves : immunoturbidimetry, ELISA, and others
Various programs are installed to optimize the use of multi-cuvette system, such as :
Random access : allowing analyzer to automatically run different measurements with the same rack of cuvettes in only one process. It is possible to analyze substrates, enzymes, etc at the same time.
Profile program : pre-programmed or by free election, allows to run up to 15 different parameters for the same sample in a 5 minutes cycle.
Batch : program for calibrating and measuring one uniform parameter from different samples in one running cycle.
Clima® MC-15 is clinical chemistry analyzer designed for small, medium, and big laboratories, due to its versatility and speed, perfect for urgencies, low volume laboratories and as back up instrument.
The built-in incubator of 4 parallel multi-cuvette racks thermostated at 37 ºC, and a mixer guarantee thoroughly reaction between sample and reagents with standardized time and speed of shaking. No specialized personnel is required.
The results are displayed and printed out on thermal paper with the controls and flags if needed.
Due to its compact and robust design, the need of daily maintenance is almost negligible.
Model type
Benchtop clinical chemistry analyzer
Optical type
Mobile head with halogen lamp, filter rotor, solid photocell, and filters rotor motor
System type
High resolution, mono and bichromatic system
Sample types
Serum, plasma, whole blood, urine
Sample volume
5 – 100 μL
Reagent volume
400 - 800 μL
Spectral range
320 - 650 nm
Incorporated filters
340, 405, 500, 546, 578, 630, and 670 nm
Band path
< 8 nm
Detector
Solid-state
Light source
Halogen lamp 20 W
Photometer noise max
± 0.001 OD at 1.5 OD at 340 nm
Drift
< 0.005 OD/h
Photometric linearity
Better than 1%
Photometric accuracy
± 2% from 0 - 2.5 of OD
Readings
Absorbances, concentrations, kinetics, fixed time, ratio, differential, and multistandard
Measurements
Random Access, Profile Program, Batches
Information display
Alphanumeric 4x40 characters LCD display completely programmed from the alphanumeric keyboard.
Easy instrument-operator communication.
The result is printed with 640 dots per line printer on thermal paper 100 mm wide.
Reading range
0 - 2.5 OD
Reproducibility
± 1 digit
Memory method
60 memory positions
Computer connection
RS 232 C
Power
AC 220 V; 50 Hz; 200 W
Dimensions
58 cm x 57 cm x 20 cm
Weight
± 20 kg
Clima® MC-15 is installed with a wide array of programmed methods and methods identification ranging from general up to specific clinical chemistry testing.
For further list details, please reach our technical support team by clicking through this link.
Clima® MC-15 is an open system analyzer built for a speed and versatile workflow. We recommend using Proline's Multi-Purpose Kit line for ergonomic and reagent easy usage.
Click here to view the kit line and list of Proline's parameters for Clima® MC-15.
Reach our team to know more about other products and order information.
WA. +62 815 1359 2626

E. marketing@proline.co.id
Please reach our Technical Support team for further help with product specification, services, and other technical documents.
WA. +62 817 9324 884

E. technical.support@prodis.co.id
Instrumen Cepat & Serba Guna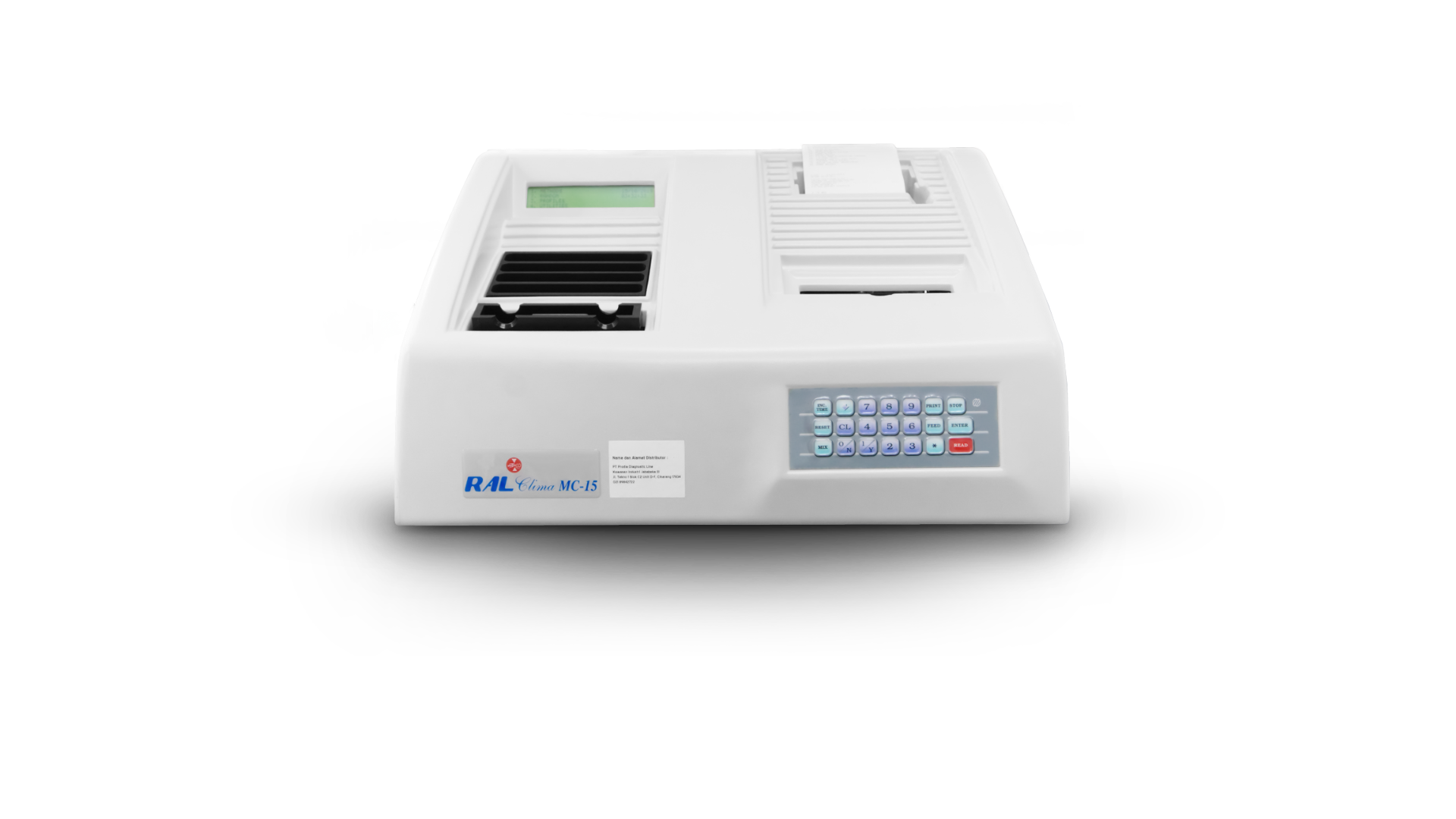 Uji tes sangat mudah dilakukan dan dikontrol karena penggunaan dari rak multikuvet dengan wadah penampung yang terpisah untuk membantu dalam pengolahan sampel dan reagen.
Sistem multikuvet memungkinkan Clima® MC-15 untuk membaca 15 uji end point dalam satu menit, atau 15 uji kinetik dalam 4 menit secara serentak dengan konsumsi reagen yang rendah (0,5 mL) tanpa perlu khawatir kesalahan akibat carry over.
Tiap sel kuvet terdiri atas 2 kompartemen. Kompartemen kecil untuk sampel, dan kompartemen besar untuk reagen yang dapat menampung sekitar 500 µL reagen. Multikuvet cocok untuk pengukuran reagen dengan format monoreagen dan bireagen.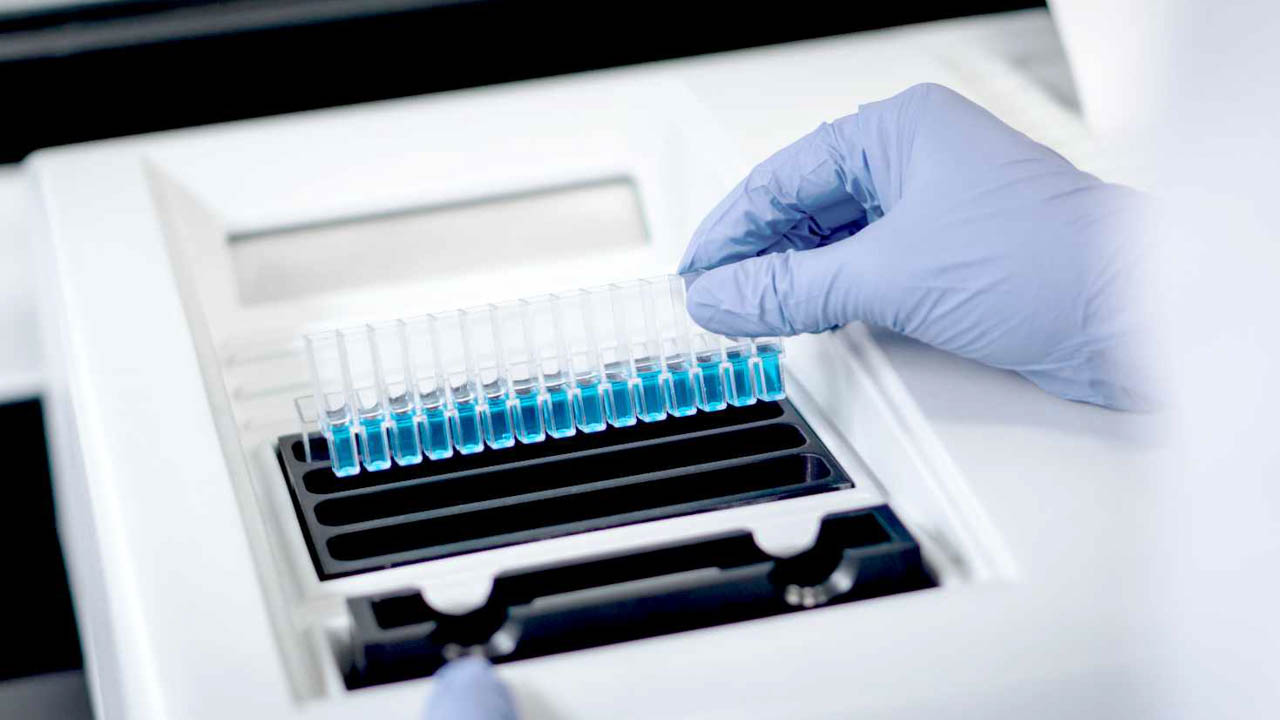 Inkubator dengan set rak multikuvet
Clima® MC-15 dilengkapi dengan 4 rak inkubator yang pas dengan bentuk multikuvet. Hal ini menjadikan alur pengerjaan Clima® MC-15 menjadi semakin maksimal dan lancar.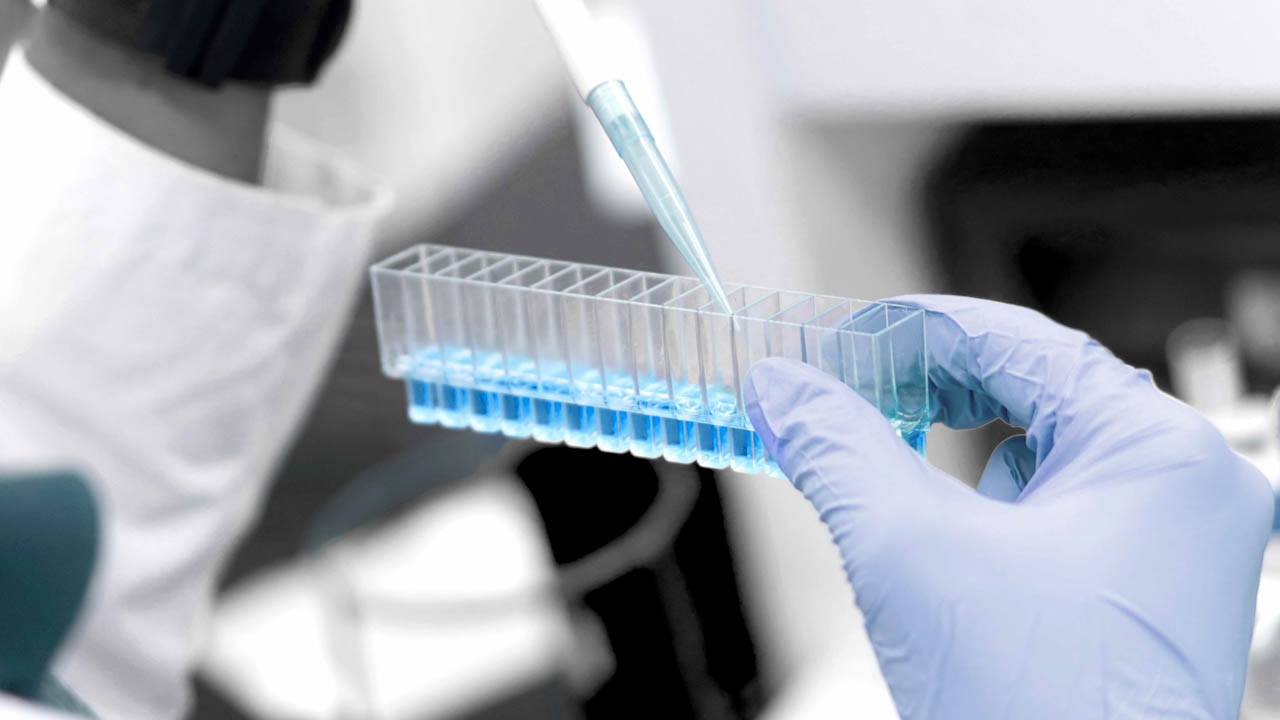 Kompartemen dengan sel pembacaan yang banyak
Satu set multikuvet terdiri dari 15 satuan kuvet yang memungkinkan untuk melakukan pembacaan beberapa parameter dalam satu kali rangkaian tes. Desain multikuvet sekali pakai menjadikan sistem ini terbebas dari kesalahan akibat pencampuran antar sampel yang tidak disengaja.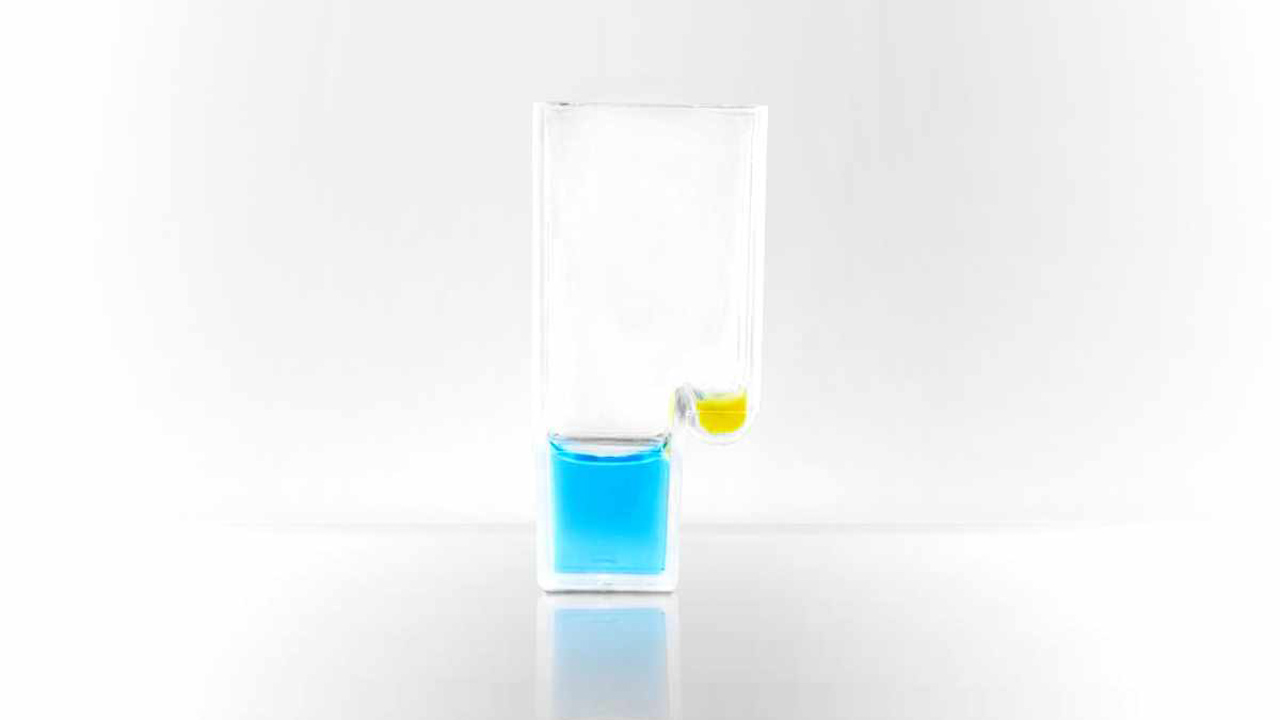 Dua kompartemen dalam satu kuvet
Tiap bagian dari multikuvet terdiri atas dua kompartemen untuk reagen (biru) dan sampel (kuning). Tiap kuvet dirancang untuk menjadikan larutan homogen secara seragam dan meminimalisir risiko terbentuknya gelembung pada tahap pencampuran.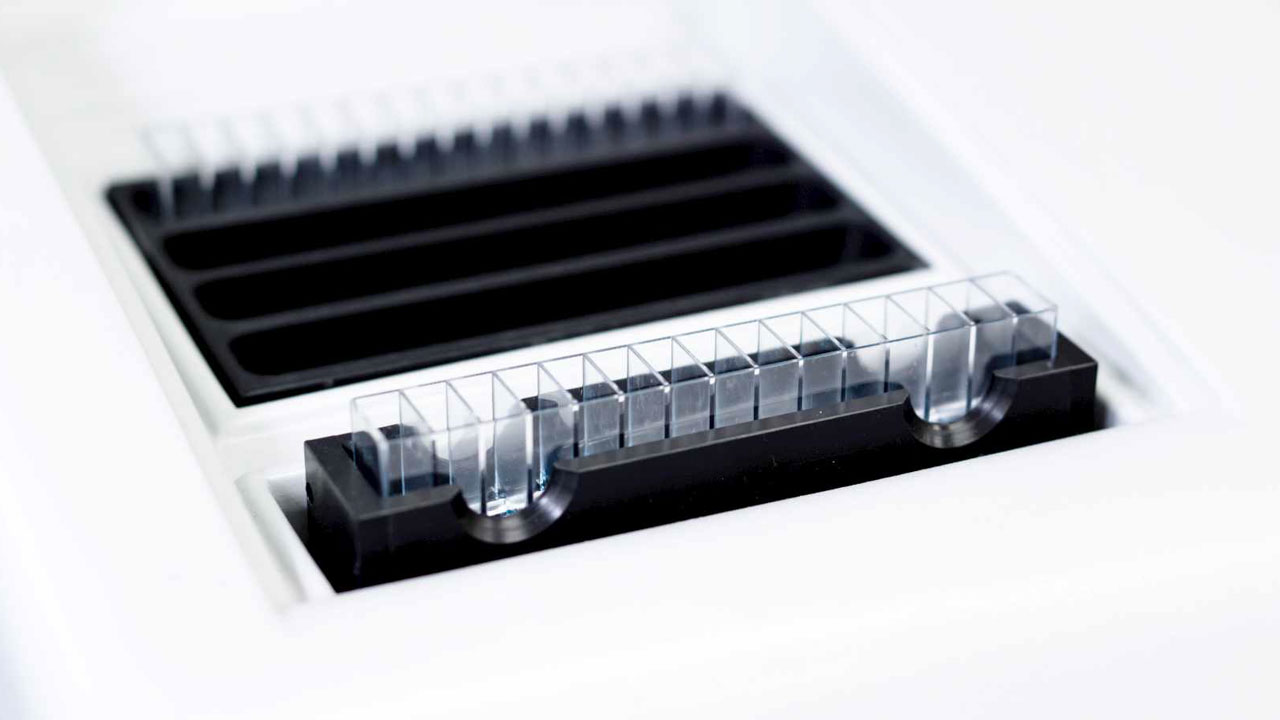 Alat pencampur yang terkontrol
Clima® MC-15 memiliki fitur alat pencampur sistem mekanik yang disertai dengan sistem kontrol waktu dan kecepatan pencampuran untuk mendapatkan larutan homogen yang seragam.
Clima® MC-15 dapat mengukur beragam parameter pengukuran seperti :
Absorbansi 
Konsentrasi : 

end point dan fixed time

Aktivitas : 

kinetik

Diferensial
Rasio : 

perhitungan spesifik

Kurva multikalibrasi : 

immunoturbidimetri, ELISA, dll.
Beragam program untuk mengoptimasi penggunaan sistem multikuvet juga tersedia seperti :
Random access : 

memungkinkan instrumen untuk mengerjakan pengukuran yang berbeda dalam rak kuvet yang sama secara otomatis dalam satu siklus running. Fitur ini dapat menganalisa subtrat, enzim, dll secara bersamaan.

Profile program : 

pemrograman secara manual sebelum running oleh pengguna, memungkinkan untuk pengerjaan hingga 15 parameter berbeda untuk sampel yang sama dalam satu siklus running selama 5 menit.

Batch : 

program untuk mengkalibrasi dan mengukur satu parameter seragam pada sampel yang berbeda dalam satu siklus running.
Clima® MC-15adalah instrumen kimia klinik yang didesain untuk laboratorium skala kecil, menengah hingga besar. Hal ini dikarenakan desainnya yang kompak, lengkap, dan sangat cepat, sangat cocok untuk pengerjaan sampel darurat dan cocok digunakan sebagai instrumen utama di laboratroium skala kecil maupun cadangan di laboratorium skala besar.
Inkubator dengan 4 rak multikuvet bersuhu 37ºC dan sebuah mixer dengan kecepatan dan waktu terstandarisasi menjamin hasil reaksi antar sampel dan reagen yang optimal dan homogen.
Nilai dari hasil pengukuran ditampilkan dan dicetak di kertas termal dengan fitur kontrol dan penanda yang dapat ditambahkan.
Karena dirancang sebagai instrumen yang kuat dan awet, kebutuhan akan perawatan harian sangatlah minim.
Model
Instrumen kimia klinik beralaskan meja
Jenis optik
Motor penggerak dengan lampu halogen, rotor penyaring, unit fotosel, dan motor dari rotor

penyaring

Tipe sistem
Sistem mono dan bikromatik beresolusi tinggi
Jenis sampel
Serum, plasma, darah, urin
Volume sampel
5 – 100 μL
Volume reagen
400 - 800 μL
Jangkauan spektrum
320 - 650 nm
Filter terpasang
340, 405, 500, 546, 578, 630, dan 670 nm
Panjang pita cahaya
< 8 nm
Detektor
Fase padat
Sumber cahaya
Lampu halogen 20 W
Kebisingan maksimum fotometer
± 0.001 OD pada 1.5 OD di 340 nm
Simpangan
< 0.005 OD/jam
Linearitas fotometer
Lebih baik dari 1%
Akurasi fotometer
± 2% dari 0 - 2.5 OD
Pembacaan
Absorbansi, konsentrasi, kinetik, fixed time, rasio, diferensial, dan kurva multistandard
Pengukuran
Random Access, Profile Program, Batches
Tampilan informasi
Tampilan LCD alfanumerik hingga 4x40 karakter yang terprogram menggunakan keyboard alfanumerik yang memudahkan komunikasi antar instrumen-operator.
Hasil dicetak menggunakan printer berkapasitas 640 dpi pada kertas termal dengan lebar 100 mm.
Jangkauan pembacaan
0 - 2.5 OD
Reproduksibilitas
± 1 digit
Kapasitas metode
60 metode
Koneksi komputer
RS 232 C
Daya
AC 220 V; 50 Hz; 200 W
Dimensi
58 cm x 57 cm x 20 cm
Berat
± 20 kg
Clima® MC-15 sudah terprogram dengan beragam metode pengujian dan identifikasi parameter mulai dari parameter uji kimia klinik umum hingga spesifik.
Rincian daftar parameter lebih lanjut, silakan hubungi tim bantuan teknis kami lewat link berikut.
Clima® MC-15 adalah instrumen kimia klinik sistem terbuka yang dirancang untuk alur pengujian beragam namun tetap ringkas dan cepat. Kami merekomendasikan untuk menggunakan reagen Proline dengan jenis kit Multi-Purpose Kit untuk kemudahan pemakaian dan penyimpanan reagen.
Klik di sini untuk melihat jenis kit dan daftar parameter reagen Proline yang dapat diaplikasikan di Clima® MC-15
Hubungi tim kami lebih lanjut untuk informasi produk dan pemesanan.
Telp. +6221 8984 2722

WA. +62 815 1359 2626

E. marketing@proline.co.id
Hubungi tim Bantuan Teknis kami untuk pertolongan lebih lanjut terkait spesifikasi produk, layanan, dan dokumen teknis lainnya.
Telp. +6221 8984 2722

WA. +62 817 9324 884

E. technical.support@prodis.co.id