Bilirubin Auto Direct FS
Bilirubin is a breakdown product of hemoglobin. Free, unconjugated bilirubin is extremely apolar and nearly insoluble in water, thus forming a complex with albumin for the transport in the blood from the spleen to the liver. In the liver, bilirubin is conjugated with glucuronic acid, and the resulting water-soluble bilirubin glucuronic acid is excreted via the bile ducts.
Hyperbilirubinemia can be caused by increased bilirubin production due to hemolysis (pre-hepatic jaundice), parenchymal damages of the liver (intra-hepatic jaundice) or by occlusion of bile ducts (post-hepatic jaundice). A chronic congenital (predominantly unconjugated) hyperbilirubinemia called Gilbert's syndrome is quite frequent in the population. High levels of total bilirubin are observed in 60 - 70 % of neonates due to an increased postpartum breakdown of erythrocytes and because of the delayed function of enzymes for bilirubin degradation. Common bilirubin methods detect either total bilirubin or direct bilirubin. Determinations of direct bilirubin measure mainly conjugated, water-soluble bilirubin. Unconjugated bilirubin can therefore be estimated as the difference between total bilirubin and direct bilirubin.
Neonatal jaundice due to bile duct atresia

Obstructive jaundice
Proline Bilirubin Auto Direct FS comes in a liquid format which provides convenience for users as no reconstitution is required which helps reduce the risk of misdiagnosis.
Proline Bilirubin Auto Direct FS reagent is suitable for various third party analyzers such as Abbott, Advia, Cobas, Hitachi, Olympus, Response, TokyoBoeki, and Beckman Coulter. Please contact our technical support at marketing@proline.co.id for further compatibility information on other types of analyzers.
Photometric test using 2,4-dichloroaniline (DCA)

No interference: ascorbic acid 30mg/dL, hemoglobin 25mg/dL, naproxen 1 mmol/L and lipemia up to triglycerides 2000mg/dL

Measurement linearity is up to 7 mg/dL, with a lower limit of detection of 0.1 mg/dL
Each laboratory should check if the reference ranges are transferable to its own patient population and determine its own reference ranges if necessary.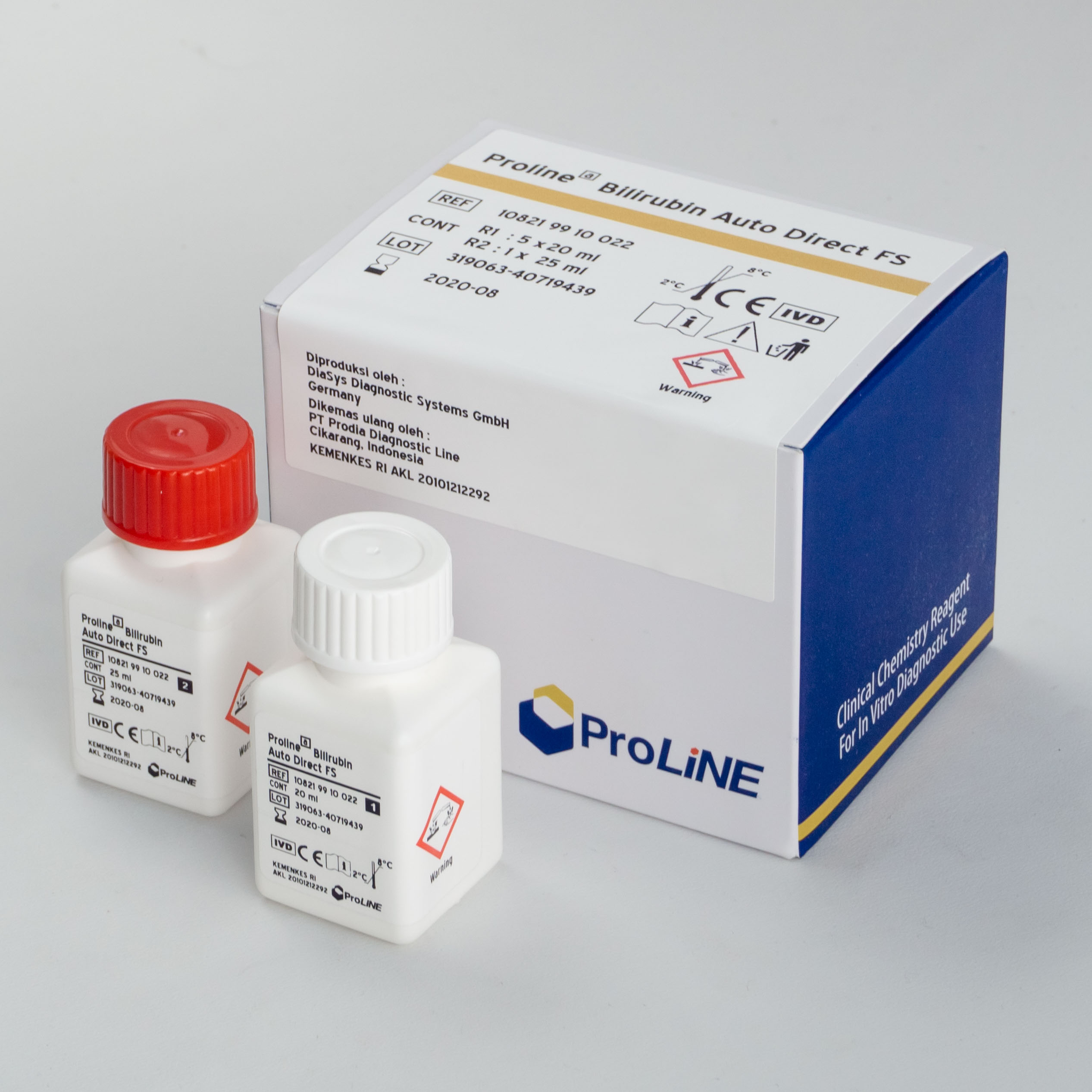 Reach out to our team for more product and orders information.
Phone. +6221 8984 2722

WhatsApp. +62 815 1359 2626

Email. marketing@proline.co.id
Contact our Technical Assistance team for further assistance with product specifications, services and other technical documents.
Phone. +6221 8984 2722

WhatsApp. +62 817 9324 884

Email. technical.support@prodis.co.id