DNA Transfection Reagent
High Efficiency & Low Cytotoxicity Transfection
TransGENE DNA Transfection Reagent is a non-liposomal reagent that helps transfect DNA into various cell lines with high efficiency and low cytotoxicity.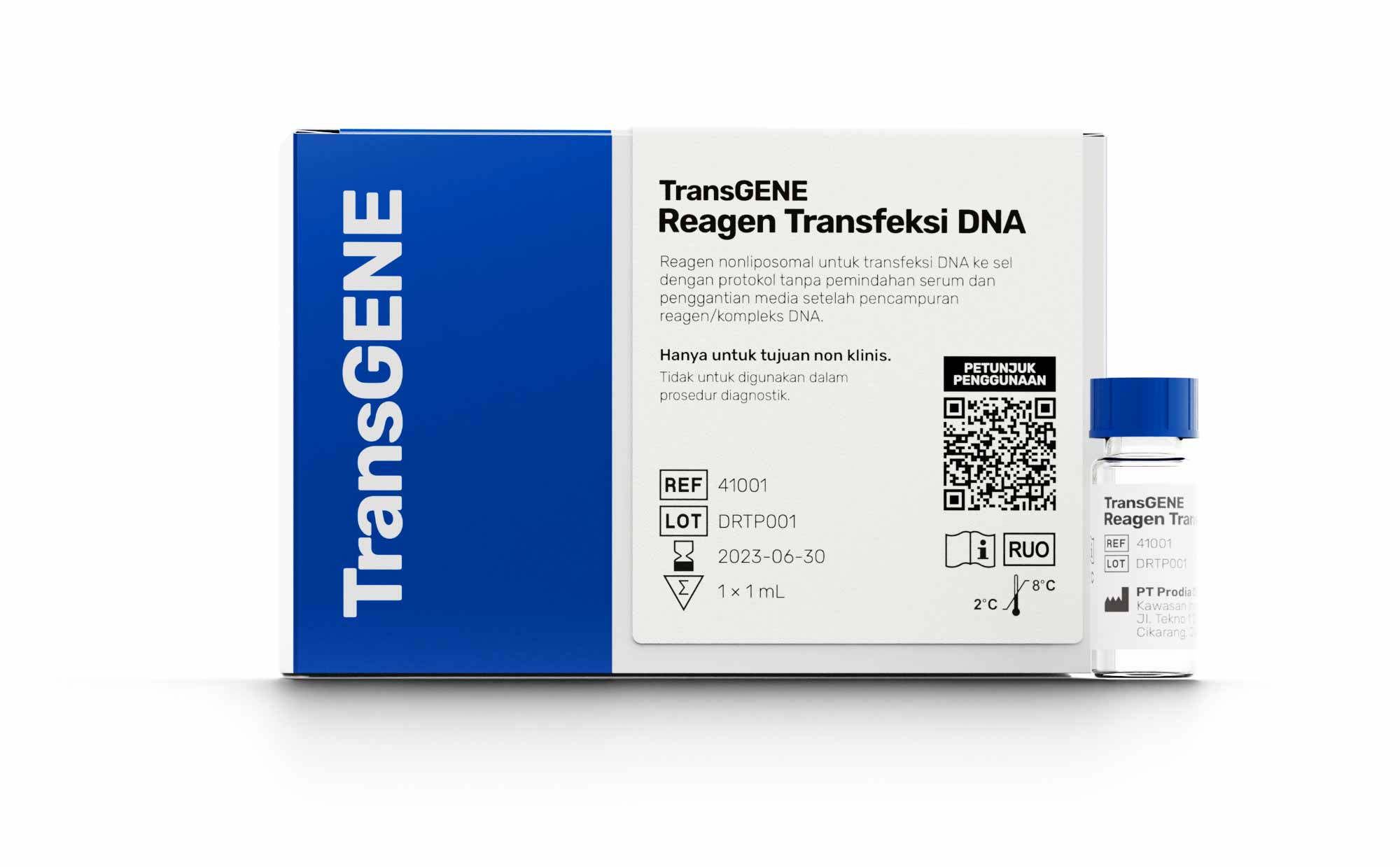 TransGENE DNA Transfection Reagent is a non-liposomal reagent that assists the transfection of DNA into a wide variety of mammalian cell lines. TransGENE also shows good performance for use in studies of gene expression, overexpression, and gene reporter assays, as well as various other cellular analysis applications with high-sensitivity performance.
Suitable for various types of cell lines, adherents or suspensions

High transfection efficiency performance with low cytotoxicity effect

Can be used for various cell growth media

Reliable results for high-throughput applications

It can be used immediately with minimum optimization
TransGENE is the result of collaboration with a research team from Padjadjaran University under the KEDAIREKA project. Watch the following video to follow the collaborative journey of making this reagent.
TransGENE works by utilizing the positive charge on the transfection reagent to bind to negatively charged nucleic acids and form a positively charged complex. This complex will interact with the negative charge on the cell surface to facilitate the entry of nucleic acids into the cell through the process of endocytosis.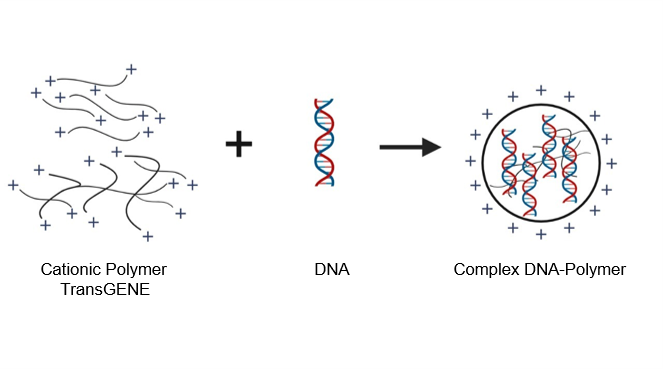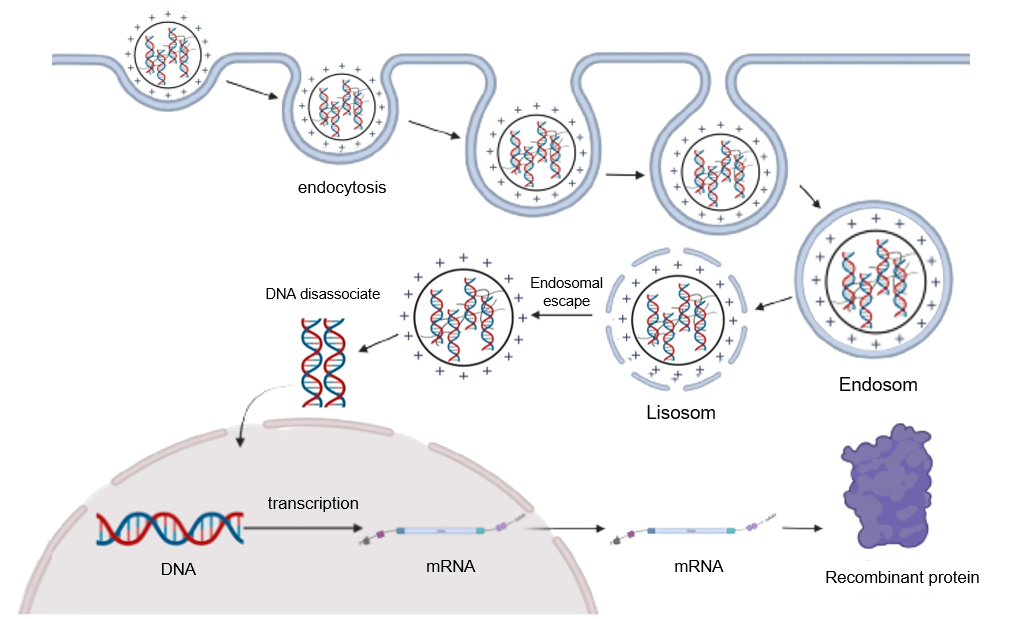 The total volume of DNA and transfection reagent is added to the well and then the appropriate medium is added in a sterile polystyrene tube (u/v shaped).

Plasmid DNA was added to the transfection reagent mixture then homogenized and the incubation process was carried out.

The homogeneous reagent/DNA mixture is added to the 96-well plate which already contains cells in the growth medium, then homogenized again and incubated.

Transfection efficiency was then measured using the appropriate method for the reporter gene.
Package contents
1 x 1 mL reagent vial (Catalog No. 41001)
Instructions for use
Class
A non-liposomal transfection reagent based on a cationic polymer formulation
Application
Transfection of DNA/plasmid DNA
Types of transfection techniques
Transient transfection and stable transfection
Types of nucleic acids
DNA
Cell sample type
DNA Plasmid
Serum compatibility
The medium for the formation of the transfection complex is carried out in serum-free culture media, but for the treatment of cells after transfection, media with serum can be used.
Usage restrictions
Research use only.
Not to be used for diagnostics in Health Facilities.
Storage conditions
2-8°C. Do not freeze!
TransGENE provides performance comparable to commercial products already on the market. With better performance than competing products, TransGENE is able to meet user needs in achieving efficient and effective transfection results.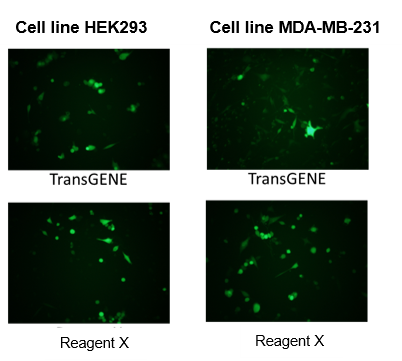 Figure 1. GFP expression in the HEK293 cell line and the MDA-MB-231 cell line
In transfection of a GFP-containing plasmid against the HEK293 and MDA-MB-231 cell lines, TransGENE DNA Transfection Reagent proved to be comparable to a competing transfection reagent product (reagent X).

Figure 2. The results of the blot test from TransGENE are compared with reagent X
In transfection of Y protein containing plasmid with His marker against the HEK293 cell line, TransGENE DNA Transfection Reagent was shown to express Y protein higher than transfection using a competing transfection reagent (reagent X).
Reach our team to know more about other products and order information.
Please reach our Technical Support team for further help with product specification, services, and other technical documents.